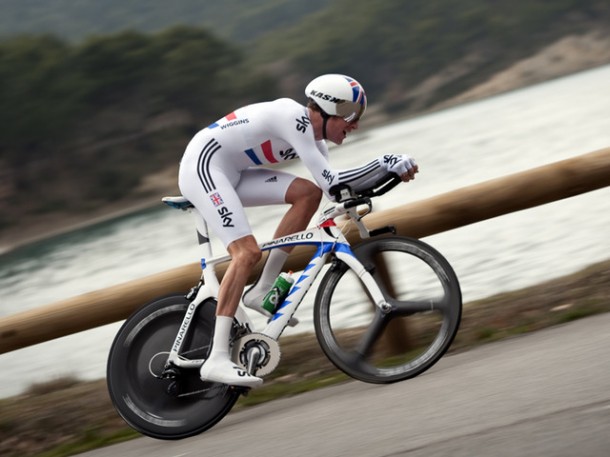 C'est Bradley Wiggins qui remporte la contre la montre du Tour of Britain cet après midi dans les rues de Londres. Au terme des 8 km, il devance Sylvain Chavanel de 8 sec et Stephen Cummings de 9 sec.
Dylan Van Baarle a très bien géré ce chrono, puisqu'il termine à 25 sec de Wiggins et conserve la place du leader du classement général avec 10 sec d'avance sur Michal Kwiatkowski.
A noter la performance du jeune Irlandais Ryan Mullen qui termine à la 7 place, de bon augure avant les mondiaux espoirs en Espagne.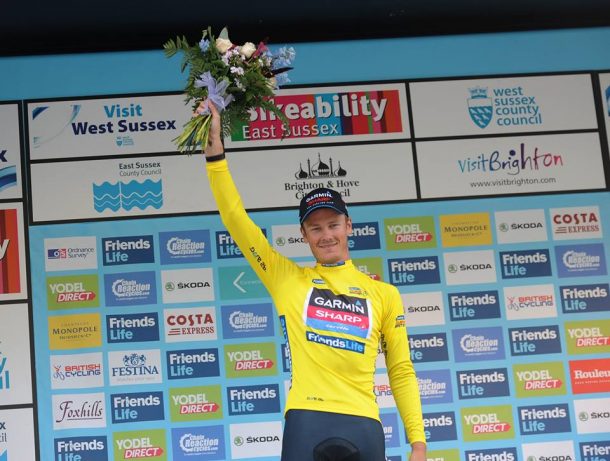 Dylan Van Baarle semble bien parti pour gagner ce Tour of Britain , après la dernière étape avec un critérium de 88 km dans les rues de Londres ce soir qui risque d'être très disputé avec 6 sec de bonifications au vainqueur, car son dauphin Michal Kwiatkowski n'est qu'à 10 sec derrière le Néerlandais et peut tenter le tout pour le tout.
Classement du contre la montre
1
Bradley Wiggins (GBr) Team Sky
0:09:51
2
Sylvain Chavanel (Fra) IAM Cycling
0:00:08
3
Stephen Cummings (GBr) BMC Racing Team
0:00:09
4
Jan Barta (Cze) Team NetApp-Endura
0:00:14
5
Matthias Brandle (Aut) IAM Cycling
0:00:15
6
Michal Kwiatkowski (Pol) Omega Pharma-QuickStep
0:00:16
7
Ryan Mullen (Irl) An Post-Chainreaction
0:00:20
8
Alex Dowsett (GBr) Movistar Team
9
Christopher Juul Jensen (Den) Tinkoff-Saxo
0:00:24
10
Martin Kohler (Sui) BMC Racing Team
0:00:25
11
Dylan Van Baarle (Ned) Garmin-Sharp
12
Manuele Boaro (Ita) Tinkoff-Saxo
0:00:26
13
Jon Izagirre Insausti (Esp) Movistar Team
14
Lasse Norman Hansen (Den) Garmin-Sharp
0:00:28
15
Mark Cavendish (GBr) Omega Pharma-QuickStep
16
Marcel Kittel (Ger) Team Giant-Shimano
0:00:29
17
Leopold König (Cze) Team NetApp-Endura
0:00:30
18
Jack Bauer (NZl) Garmin-Sharp
19
Peter Velits (Svk) BMC Racing Team
0:00:31
20
Thomas Dekker (Ned) Garmin-Sharp
21
Heinrich Haussler (Aus) IAM Cycling
0:00:32
22
Nicolas Roche (Irl) Tinkoff-Saxo
23
Albert Timmer (Ned) Team Giant-Shimano
0:00:34
24
Julien Vermote (Bel) Omega Pharma-QuickStep
0:00:35
25
Ben Swift (GBr) Team Sky
26
Edoardo Zardini (Ita) Bardiani CSF
0:00:37
27
Rick Flens (Ned) Belkin Pro Cycling Team
28
Thomas Scully (NZl) Madison Genesis
0:00:39
29
Nikolay Trusov (Rus) Tinkoff-Saxo
0:00:40
30
Niki Terpstra (Ned) Omega Pharma-QuickStep
0:00:42
31
Sébastien Reichenbach (Sui) IAM Cycling
0:00:45
32
Ignatas Konovalovas (Ltu) MTN-Qhubeka
33
Rory Sutherland (Aus) Tinkoff-Saxo
0:00:46
34
David Lopez Garcia (Esp) Team Sky
0:00:47
35
Giovanni Visconti (Ita) Movistar Team
36
Michal Golas (Pol) Omega Pharma-QuickStep
0:00:49
37
Tom Veelers (Ned) Team Giant-Shimano
38
Daniel Schorn (Aut) Team NetApp-Endura
0:00:50
39
Matthieu Boulo (Fra) Team Raleigh
40
Thomas Stewart (GBr) Madison Genesis
41
Tao Geoghegan Hart (GBr) Great Britain
0:00:52
42
Owain Doull (GBr) An Post-Chainreaction
43
Ian Bibby (GBr) Madison Genesis
0:00:53
44
Rick Zabel (Ger) BMC Racing Team
0:00:54
45
Marcin Bialobloski (Pol) Giordana Racing Team
0:00:55
46
Tom Stamsnijder (Ned) Team Giant-Shimano
47
Mark Renshaw (Aus) Omega Pharma-QuickStep
0:00:56
48
Steve Lampier (GBr) Giordana Racing Team
49
Francesco Manuel Bongiorno (Ita) Bardiani CSF
0:00:57
50
Dylan Teuns (Bel) BMC Racing Team
0:00:59
51
Bram Tankink (Ned) Belkin Pro Cycling Team
52
Sebastian Henao Gomez (Col) Team Sky
0:01:01
53
Paul Voss (Ger) Team NetApp-Endura
54
Bert De Backer (Bel) Team Giant-Shimano
55
Maarten Wynants (Bel) Belkin Pro Cycling Team
0:01:03
56
Christopher Latham (GBr) Great Britain
57
Daniel McLay (GBr) Great Britain
58
Richard Handley (GBr) Rapha Condor JTL
59
Michael James Northey (NZl) Madison Genesis
0:01:04
60
Dylan Girdlestone (Rsa) Garmin-Sharp
0:01:06
61
Tyler Farrar (USA) Garmin-Sharp
62
Bradley Morgan (GBr) Giordana Racing Team
63
Lars-Petter Nordhaug (Nor) Belkin Pro Cycling Team
0:01:07
64
Scott Thwaites (GBr) Team NetApp-Endura
0:01:08
65
Bol Jetse (Ned) Belkin Pro Cycling Team
0:01:10
66
Chris Opie (GBr) Rapha Condor JTL
0:01:12
67
Adam Blythe (GBr) NFTO
68
Morgan Kneisky (Fra) Team Raleigh
0:01:13
69
Dennis Van Niekerk (Rsa) MTN-Qhubeka
70
Shane Archbold (NZl) An Post-Chainreaction
0:01:15
71
Markus Barry (Ned) Belkin Pro Cycling Team
0:01:16
72
Karel Hnik (Cze) MTN-Qhubeka
73
Thomas Moses (GBr) Rapha Condor JTL
74
Javier Megias Leal (Esp) Team Novo Nordisk
75
Mark Christian (GBr) Team Raleigh
0:01:19
76
George Atkins (GBr) Team Raleigh
0:01:20
77
Martijn Verschoor (Ned) Team Novo Nordisk
0:01:21
78
Mark McNally (GBr) An Post-Chainreaction
0:01:23
79
Germain Burton (GBr) Great Britain
0:01:25
80
Enrico Battaglin (Ita) Bardiani CSF
81
Liam Holohan (GBr) Madison Genesis
0:01:26
82
Robert Partridge (GBr) Giordana Racing Team
0:01:27
83
Christopher Lawless (GBr) Great Britain
84
Andrea Peron (Ita) Team Novo Nordisk
0:01:29
85
David Lozano Riba (Esp) Team Novo Nordisk
0:01:31
86
Jim Songezo (Rsa) MTN-Qhubeka
0:01:33
87
James Moss (GBr) Giordana Racing Team
0:01:35
88
Enrique Sanz Unzue (Esp) Movistar Team
0:01:37
89
Sebastian Lander (Den) BMC Racing Team
0:01:38
90
Sylvester Szmyd (Pol) Movistar Team
91
Bernhard Eisel (Aut) Team Sky
0:01:39
92
James Lowsley Williams (GBr) NFTO
0:01:43
93
Nathan Edmondson (GBr) Giordana Racing Team
0:01:45
94
Pablo Lastras Garcia (Esp) Movistar Team
0:01:47
95
Nicola Ruffoni (Ita) Bardiani CSF
96
Ian Wilkinson (GBr) Team Raleigh
0:01:48
97
Joshua Hunt (GBr) NFTO
0:01:49
98
Dale Appleby (GBr) NFTO
0:01:52
99
Kristian House (GBr) Rapha Condor JTL
0:01:54
100
Yanto Barker (GBr) Team Raleigh
0:02:00
101
Andreas Stauff (Ger) MTN-Qhubeka
0:02:06
102
Jérôme Pineau (Fra) IAM Cycling
0:02:08
103
Jack Wilson (Irl) An Post-Chainreaction
0:02:25
104
Kevin Ista (Bel) IAM Cycling
0:02:36
105
Alex Peters (GBr) Madison Genesis
0:07:33
DNS
Sonny Colbrelli (Ita) Bardiani CSF
DNS
Andrea Piechele (Ita) Bardiani CSF
Classement général provisoire
| | | | |
| --- | --- | --- | --- |
| 1 | Dylan Van Baarle (Ned) Garmin-Sharp | 30:32:17 | |
| 2 | Michal Kwiatkowski (Pol) Omega Pharma-QuickStep | 0:00:10 | |
| 3 | Bradley Wiggins (GBr) Team Sky | 0:00:22 | |
| 4 | Edoardo Zardini (Ita) Bardiani CSF | 0:00:37 | |
| 5 | Nicolas Roche (Irl) Tinkoff-Saxo | 0:00:42 | |
| 6 | Jon Izagirre Insausti (Esp) Movistar Team | 0:00:46 | |
| 7 | Sylvain Chavanel (Fra) IAM Cycling | 0:00:50 | |
| 8 | Alex Dowsett (GBr) Movistar Team | 0:00:54 | |
| 9 | Dylan Teuns (Bel) BMC Racing Team | 0:01:10 | |
| 10 | David Lopez Garcia (Esp) Team Sky | 0:01:11 | |
| 11 | Jan Barta (Cze) Team NetApp-Endura | | |
| 12 | Sébastien Reichenbach (Sui) IAM Cycling | | |
| 13 | Ignatas Konovalovas (Ltu) MTN-Qhubeka | 0:01:19 | |
| 14 | Christopher Juul Jensen (Den) Tinkoff-Saxo | 0:01:24 | |
| 15 | Tao Geoghegan Hart (GBr) Great Britain | 0:01:52 | |
| 16 | Rory Sutherland (Aus) Tinkoff-Saxo | 0:01:53 | |
| 17 | Francesco Manuel Bongiorno (Ita) Bardiani CSF | 0:01:59 | |
| 18 | Steve Lampier (GBr) Giordana Racing Team | 0:02:06 | |
| 19 | Matthieu Boulo (Fra) Team Raleigh | 0:02:13 | |
| 20 | Jack Bauer (NZl) Garmin-Sharp | 0:02:16 | |
| 21 | Giovanni Visconti (Ita) Movistar Team | 0:02:44 | |
| 22 | Lars-Petter Nordhaug (Nor) Belkin Pro Cycling Team | 0:02:55 | |
| 23 | Michal Golas (Pol) Omega Pharma-QuickStep | 0:03:31 | |
| 24 | Karel Hnik (Cze) MTN-Qhubeka | 0:03:41 | |
| 25 | Ben Swift (GBr) Team Sky | | |
| 26 | Richard Handley (GBr) Rapha Condor JTL | 0:03:42 | |
| 27 | Sebastian Henao Gomez (Col) Team Sky | 0:04:42 | |
| 28 | Liam Holohan (GBr) Madison Genesis | 0:05:19 | |
| 29 | Bram Tankink (Ned) Belkin Pro Cycling Team | 0:05:39 | |
| 30 | Dennis Van Niekerk (Rsa) MTN-Qhubeka | 0:05:41 | |
| 31 | Marcin Bialobloski (Pol) Giordana Racing Team | 0:05:45 | |
| 32 | Jérôme Pineau (Fra) IAM Cycling | 0:06:10 | |
| 33 | Leopold König (Cze) Team NetApp-Endura | 0:06:54 | |
| 34 | Enrico Battaglin (Ita) Bardiani CSF | 0:07:14 | |
| 35 | Mark Christian (GBr) Team Raleigh | 0:09:15 | |
| 36 | Alex Peters (GBr) Madison Genesis | 0:10:46 | |
| 37 | Matthias Brandle (Aut) IAM Cycling | 0:10:47 | |
| 38 | Owain Doull (GBr) An Post-Chainreaction | 0:11:58 | |
| 39 | Rick Zabel (Ger) BMC Racing Team | 0:12:37 | |
| 40 | Heinrich Haussler (Aus) IAM Cycling | 0:13:29 | |
| 41 | Mark Cavendish (GBr) Omega Pharma-QuickStep | 0:13:46 | |
| 42 | Sylvester Szmyd (Pol) Movistar Team | 0:14:03 | |
| 43 | Julien Vermote (Bel) Omega Pharma-QuickStep | 0:15:50 | |
| 44 | Paul Voss (Ger) Team NetApp-Endura | 0:16:13 | |
| 45 | Maarten Wynants (Bel) Belkin Pro Cycling Team | 0:16:21 | |
| 46 | Kevin Ista (Bel) IAM Cycling | 0:16:28 | |
| 47 | Niki Terpstra (Ned) Omega Pharma-QuickStep | 0:18:09 | |
| 48 | Tom Stamsnijder (Ned) Team Giant-Shimano | 0:18:39 | |
| 49 | Morgan Kneisky (Fra) Team Raleigh | 0:19:33 | |
| 50 | Pablo Lastras Garcia (Esp) Movistar Team | 0:20:25 | |
| 51 | Thomas Dekker (Ned) Garmin-Sharp | 0:20:31 | |
| 52 | Albert Timmer (Ned) Team Giant-Shimano | 0:20:33 | |
| 53 | Peter Velits (Svk) BMC Racing Team | 0:20:35 | |
| 54 | Stephen Cummings (GBr) BMC Racing Team | 0:20:51 | |
| 55 | Adam Blythe (GBr) NFTO | 0:22:00 | |
| 56 | Tyler Farrar (USA) Garmin-Sharp | 0:24:00 | |
| 57 | Mark McNally (GBr) An Post-Chainreaction | 0:24:07 | |
| 58 | Dylan Girdlestone (Rsa) Garmin-Sharp | 0:24:32 | |
| 59 | David Lozano Riba (Esp) Team Novo Nordisk | 0:25:00 | |
| 60 | Tom Veelers (Ned) Team Giant-Shimano | 0:26:04 | |
| 61 | Martin Kohler (Sui) BMC Racing Team | 0:26:27 | |
| 62 | Martijn Verschoor (Ned) Team Novo Nordisk | 0:28:47 | |
| 63 | Scott Thwaites (GBr) Team NetApp-Endura | 0:29:05 | |
| 64 | Thomas Stewart (GBr) Madison Genesis | 0:30:09 | |
| 65 | Andreas Stauff (Ger) MTN-Qhubeka | 0:33:04 | |
| 66 | Thomas Moses (GBr) Rapha Condor JTL | 0:36:13 | |
| 67 | Enrique Sanz Unzue (Esp) Movistar Team | 0:36:34 | |
| 68 | Michael James Northey (NZl) Madison Genesis | 0:37:18 | |
| 69 | Bol Jetse (Ned) Belkin Pro Cycling Team | 0:39:18 | |
| 70 | Robert Partridge (GBr) Giordana Racing Team | 0:39:33 | |
| 71 | Daniel Schorn (Aut) Team NetApp-Endura | 0:41:05 | |
| 72 | Mark Renshaw (Aus) Omega Pharma-QuickStep | 0:41:20 | |
| 73 | Germain Burton (GBr) Great Britain | 0:41:31 | |
| 74 | Rick Flens (Ned) Belkin Pro Cycling Team | 0:42:38 | |
| 75 | Javier Megias Leal (Esp) Team Novo Nordisk | 0:43:00 | |
| 76 | Shane Archbold (NZl) An Post-Chainreaction | 0:43:01 | |
| 77 | Nikolay Trusov (Rus) Tinkoff-Saxo | 0:44:07 | |
| 78 | Kristian House (GBr) Rapha Condor JTL | 0:44:33 | |
| 79 | Thomas Scully (NZl) Madison Genesis | 0:45:03 | |
| 80 | George Atkins (GBr) Team Raleigh | 0:46:29 | |
| 81 | Marcel Kittel (Ger) Team Giant-Shimano | 0:46:52 | |
| 82 | Lasse Norman Hansen (Den) Garmin-Sharp | 0:48:18 | |
| 83 | Jim Songezo (Rsa) MTN-Qhubeka | 0:49:04 | |
| 84 | Manuele Boaro (Ita) Tinkoff-Saxo | 0:49:37 | |
| 85 | Dale Appleby (GBr) NFTO | 0:50:12 | |
| 86 | Ryan Mullen (Irl) An Post-Chainreaction | 0:51:04 | |
| 87 | Nathan Edmondson (GBr) Giordana Racing Team | 0:51:41 | |
| 88 | Daniel McLay (GBr) Great Britain | 0:54:56 | |
| 89 | Joshua Hunt (GBr) NFTO | 0:56:39 | |
| 90 | Nicola Ruffoni (Ita) Bardiani CSF | 0:57:17 | |
| 91 | Sebastian Lander (Den) BMC Racing Team | 0:57:18 | |
| 92 | Andrea Peron (Ita) Team Novo Nordisk | 0:58:43 | |
| 93 | Ian Bibby (GBr) Madison Genesis | 0:59:28 | |
| 94 | Yanto Barker (GBr) Team Raleigh | 1:03:10 | |
| 95 | Bert De Backer (Bel) Team Giant-Shimano | 1:04:34 | |
| 96 | Markus Barry (Ned) Belkin Pro Cycling Team | 1:04:43 | |
| 97 | Chris Opie (GBr) Rapha Condor JTL | 1:08:41 | |
| 98 | Bernhard Eisel (Aut) Team Sky | 1:09:56 | |
| 99 | Ian Wilkinson (GBr) Team Raleigh | 1:11:15 | |
| 100 | Bradley Morgan (GBr) Giordana Racing Team | 1:12:15 | |
| 101 | James Moss (GBr) Giordana Racing Team | 1:14:09 | |
| 102 | Christopher Latham (GBr) Great Britain | 1:19:51 | |
| 103 | James Lowsley Williams (GBr) NFTO | 1:19:58 | |
| 104 | Christopher Lawless (GBr) Great Britain | 1:26:20 | |
| 105 | Jack Wilson (Irl) An Post-Chainreaction | 1:26:44 | |
Classement de la montagne
1
Mark McNally (GBr) An Post-Chainreaction
51
pts
2
Matthias Brandle (Aut) IAM Cycling
30
3
Michal Kwiatkowski (Pol) Omega Pharma-QuickStep
25
4
Dylan Van Baarle (Ned) Garmin-Sharp
24
5
Julien Vermote (Bel) Omega Pharma-QuickStep
23
6
Ignatas Konovalovas (Ltu) MTN-Qhubeka
22
7
Thomas Stewart (GBr) Madison Genesis
20
8
Alex Dowsett (GBr) Movistar Team
19
9
Shane Archbold (NZl) An Post-Chainreaction
19
10
Marcin Bialobloski (Pol) Giordana Racing Team
16
11
Maarten Wynants (Bel) Belkin Pro Cycling Team
16
12
Kevin Ista (Bel) IAM Cycling
16
13
Andreas Stauff (Ger) MTN-Qhubeka
15
14
Nicolas Roche (Irl) Tinkoff-Saxo
15
15
Albert Timmer (Ned) Team Giant-Shimano
14
16
Manuele Boaro (Ita) Tinkoff-Saxo
14
17
Sébastien Reichenbach (Sui) IAM Cycling
13
18
Dylan Teuns (Bel) BMC Racing Team
12
19
Edoardo Zardini (Ita) Bardiani CSF
10
20
Bradley Wiggins (GBr) Team Sky
10
21
Jack Bauer (NZl) Garmin-Sharp
10
22
Lasse Norman Hansen (Den) Garmin-Sharp
10
23
Ian Bibby (GBr) Madison Genesis
10
24
Richard Handley (GBr) Rapha Condor JTL
9
25
Sebastian Lander (Den) BMC Racing Team
8
26
Peter Velits (Svk) BMC Racing Team
8
27
Sylvain Chavanel (Fra) IAM Cycling
6
28
Jon Izagirre Insausti (Esp) Movistar Team
5
29
Steve Lampier (GBr) Giordana Racing Team
5
30
Giovanni Visconti (Ita) Movistar Team
5
31
Christopher Lawless (GBr) Great Britain
5
32
David Lopez Garcia (Esp) Team Sky
4
33
Francesco Manuel Bongiorno (Ita) Bardiani CSF
4
34
Leopold König (Cze) Team NetApp-Endura
4
35
Mark Christian (GBr) Team Raleigh
4
36
Niki Terpstra (Ned) Omega Pharma-QuickStep
4
37
Pablo Lastras Garcia (Esp) Movistar Team
4
38
Mark Renshaw (Aus) Omega Pharma-QuickStep
4
39
Kristian House (GBr) Rapha Condor JTL
4
40
Rory Sutherland (Aus) Tinkoff-Saxo
3
41
Robert Partridge (GBr) Giordana Racing Team
3
42
Thomas Dekker (Ned) Garmin-Sharp
2
43
Michal Golas (Pol) Omega Pharma-QuickStep
1
44
Yanto Barker (GBr) Team Raleigh
Classement par points
1
Michal Kwiatkowski (Pol) Omega Pharma-QuickStep
70
pts
2
Ben Swift (GBr) Team Sky
55
3
Matthias Brandle (Aut) IAM Cycling
41
4
Rick Zabel (Ger) BMC Racing Team
38
5
Sylvain Chavanel (Fra) IAM Cycling
37
6
Dylan Teuns (Bel) BMC Racing Team
34
7
Bradley Wiggins (GBr) Team Sky
33
8
Nicola Ruffoni (Ita) Bardiani CSF
32
9
Nicolas Roche (Irl) Tinkoff-Saxo
30
10
Dylan Van Baarle (Ned) Garmin-Sharp
25
11
Jon Izagirre Insausti (Esp) Movistar Team
25
12
Tyler Farrar (USA) Garmin-Sharp
24
13
Edoardo Zardini (Ita) Bardiani CSF
23
14
Alex Dowsett (GBr) Movistar Team
22
15
Heinrich Haussler (Aus) IAM Cycling
22
16
Jack Bauer (NZl) Garmin-Sharp
20
17
Albert Timmer (Ned) Team Giant-Shimano
19
18
Kevin Ista (Bel) IAM Cycling
18
19
Julien Vermote (Bel) Omega Pharma-QuickStep
15
20
Mark Renshaw (Aus) Omega Pharma-QuickStep
15
21
Marcel Kittel (Ger) Team Giant-Shimano
15
22
Martin Kohler (Sui) BMC Racing Team
15
23
David Lopez Garcia (Esp) Team Sky
14
24
Ignatas Konovalovas (Ltu) MTN-Qhubeka
14
25
Mark Cavendish (GBr) Omega Pharma-QuickStep
14
26
Shane Archbold (NZl) An Post-Chainreaction
14
27
Jan Barta (Cze) Team NetApp-Endura
13
28
Maarten Wynants (Bel) Belkin Pro Cycling Team
13
29
Stephen Cummings (GBr) BMC Racing Team
13
30
Thomas Stewart (GBr) Madison Genesis
13
31
Matthieu Boulo (Fra) Team Raleigh
12
32
Lars-Petter Nordhaug (Nor) Belkin Pro Cycling Team
11
33
Nikolay Trusov (Rus) Tinkoff-Saxo
11
34
Giovanni Visconti (Ita) Movistar Team
10
35
Markus Barry (Ned) Belkin Pro Cycling Team
10
36
Jérôme Pineau (Fra) IAM Cycling
9
37
Ryan Mullen (Irl) An Post-Chainreaction
9
38
Daniel McLay (GBr) Great Britain
9
39
Sébastien Reichenbach (Sui) IAM Cycling
8
40
Leopold König (Cze) Team NetApp-Endura
8
41
Alex Peters (GBr) Madison Genesis
8
42
Niki Terpstra (Ned) Omega Pharma-QuickStep
8
43
Christopher Juul Jensen (Den) Tinkoff-Saxo
7
44
Francesco Manuel Bongiorno (Ita) Bardiani CSF
7
45
Scott Thwaites (GBr) Team NetApp-Endura
7
46
Tom Veelers (Ned) Team Giant-Shimano
6
47
Enrique Sanz Unzue (Esp) Movistar Team
6
48
Enrico Battaglin (Ita) Bardiani CSF
4
49
Owain Doull (GBr) An Post-Chainreaction
4
50
Manuele Boaro (Ita) Tinkoff-Saxo
4
51
Steve Lampier (GBr) Giordana Racing Team
3
52
Marcin Bialobloski (Pol) Giordana Racing Team
3
53
Sebastian Lander (Den) BMC Racing Team
3
54
Karel Hnik (Cze) MTN-Qhubeka
2
55
Andreas Stauff (Ger) MTN-Qhubeka
2
56
Lasse Norman Hansen (Den) Garmin-Sharp
2
57
Peter Velits (Svk) BMC Racing Team
1
58
Adam Blythe (GBr) NFTO
1
59
Yanto Barker (GBr) Team Raleigh